Westside Writers congratulates member Michael Henry on the recent publication of his Christmas romance Six Hearts Under the Christmas Tree.
About Six Hearts Under the Christmas Tree:
Veronica and her best friend, Katrina, seem to be on top of the world. Having forged a wildly successful partnership in Katrina's music career, they finally get to live like they always dreamed of as kids. Sure, there's the crazy ex-boyfriend of Katrina's that Veronica has to pay off, and Veronica is about to marry an otherwise ideal man she doesn't love, but really, no one's life is perfect, is it? The answer, each of them thinks, is to find the exact opposite kind of guy that they usually date and marry them. Which is a great idea...in theory...but Christmas has other plans. When they meet two highly successful men in a similar dilemma, they think they've found the solution to all their problems, but why does everyone think that they're each with the wrong man?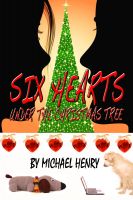 Now Available At:
Amazon
Barnes and Noble
Smashwords